Duke Garn is the current overseer of the city of
Aiel
, capital of
Oritannia
. He sees to the day-to-day affairs of the city itself, while
Emperor Xagrim IV
deals with matters that affect the Empire as a whole.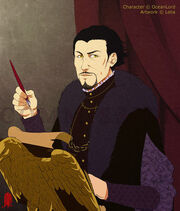 Description
Edit
Garn is a stern human man, but knows how to win over any crowd. If not for his noble dress he could be mistaken for any Heironean soldier. He is young, but wise, and seems to have almost limitless obscure knowledge. He would do anything for the Empire.
Ad blocker interference detected!
Wikia is a free-to-use site that makes money from advertising. We have a modified experience for viewers using ad blockers

Wikia is not accessible if you've made further modifications. Remove the custom ad blocker rule(s) and the page will load as expected.